Agent Profile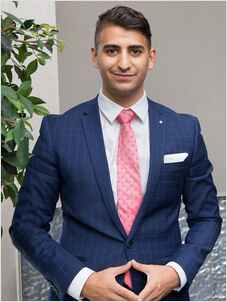 Adam Droubi
Laing+Simmons St George | Carss Park
| | |
| --- | --- |
| | vCard |
Adam Droubi
Get to know Adam with these 11 Q's and A's:

1. How long have you been in the real estate industry and what are your specialty suburbs?
A couple of years now and my specialty suburbs are Bexley - Hurstville.

2. Something people wouldn't know about you by looking at you is….
I was a fashion stylist by trade.

3. Number one on your bucket list is….
Travel to Paris and have a coffee at those great cafes.

4. What is your best lifetime experience and why?
It would probably be becoming an uncle for the first time – an amazing experience.

5. What would I find you doing on your day off?
Usually playing some tennis, and having some breakfast & lunch at my local café.

6. What or who has had the most positive impact on your life?
Will have to be my friends, all those I involve myself with are usually positive people.

7. If you could go back in time and change one thing, what would it be and why?
I wouldn't change a thing, everything happens for a reason.

8. If you were sent to prison and could only take one thing, what would it be?
My database, just so I can always have people to call to come visit me!

9. Something that gets right under your skin is….
People who don't answer their phones. I know it's extremely ironic coming from an agent though.

10. Got any embarrassing moments you'd like to share?
Most likely when I wore designer loafers for my first open home as an agent – the boss wasn't happy!

11. What would be the theme song to your life story?
Eye of the tiger.